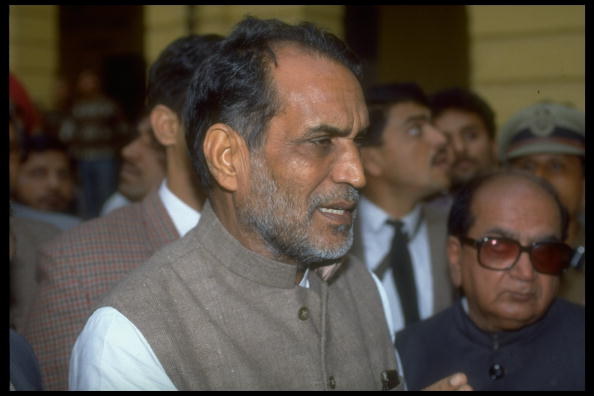 Chandra Shekhar Singh was born on 1 July 1927 in Bhumihar Brahmin family in Ibrahimpatti, a village in the Ballia district of Uttar Pradesh. He was awarded a Bachelor of Arts (graduate) degree at Satish Chandra P.G. College, and a postgraduate degree from Allahabad University. He was known as a firebrand in student politics and started his political career with Dr. Ram Manohar Lohia. After graduation, he became active in socialist politics.He married Duja Devi.
Political life
He joined the socialist movement and was elected secretary of the district Praja Socialist Party (PSP), Ballia. Within a year, he was elected joint secretary of the PSP's State unit in Uttar Pradesh. In 1955-56, he took over as general secretary of the party in the State. His career as a parliamentarian began with his election to the Rajya Sabha from Uttar Pradesh in 1962. He came under the spell of Acharya Narendra Dev, a fiery Socialist leader in the beginning of his political career. From 1962 to 1967, Shekhar belonged to the Rajya Sabha, the Upper house of the Parliament of India. When the Emergency was declared, even though he was a Congress party politician, he was arrested and sent to Patiala jail.He had a nationwide padayatra in 1983 to know the country better, which he claimed gave the jitters to Prime Minister Indira Gandhi.He was called a "Young Turk".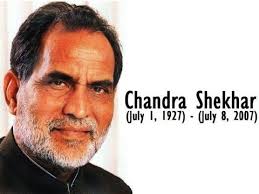 Chandra Shekhar was a prominent leader of socialists. He played a vital role in nationalisation of banks and ending of privy purse being given to royal families.He joined Congress in 1964. From 1962 to 1967, he was a member of the Rajya Sabha. He first entered the Lok Sabha in 1967. As a member of the Congress Party, he vehemently criticised Indira Gandhi for her activities. This led to a split in the Congress in 1975. Chandrashekhar was arrested during the emergency and sent to prison.He came to be known as a 'young turk' for his conviction and courage in the fight against the vested interests. The other 'young turks', who formed the 'ginger group' in the Congress in the fight for egalitarian policies, included leaders like Mohan Dharia and Ram Dhan who were also imprisoned during Emergency. Late Feroze Gandhi also used to be a part of the 'ginger group' during the undivided Congress days.[citation needed] Immediately after the Emergency, Chandrashekhar kept out of the power structure and became the first President of the Janata Party, formed in 1977 in the flush of electoral success that heralded the first non-Congress government at the Centre.[citation needed]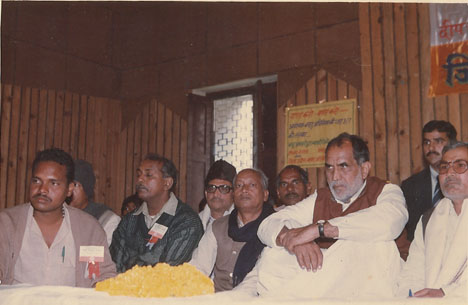 After the emergency, he became the President of Janata Party. In the parliamentary elections, Janata Party did very well and formed the coalition government headed by late Morarji Desai. In 1988, his party merged with other parties and formed the government under the leadership of V.P. Singh. Again his relationship with the coalition deteriorated and he formed another party, Janata Dal socialist faction. With the support of Congress headed by Rajiv Gandhi, he replaced V.P. Singh as the Prime Minister of India in November 1990.After 1977, he was elected to Lok Sabha in all the elections, except in 1984 when the Congress swept the polls after Indira Gandhi's assassination. The post of Prime Minister, which he thought he genuinely deserved, eluded him in 1989 when V P Singh pipped him at the post and was chosen to head the first coalition government at the Centre.[citation needed] Chandrashekhar always held a grouse that V P Singh and late Devi Lal entered into a pact to deprive him of the Prime Ministership and used it against Singh at the height of the post-Mandal agitation to break the party and bring the government down in 1990.[citation needed