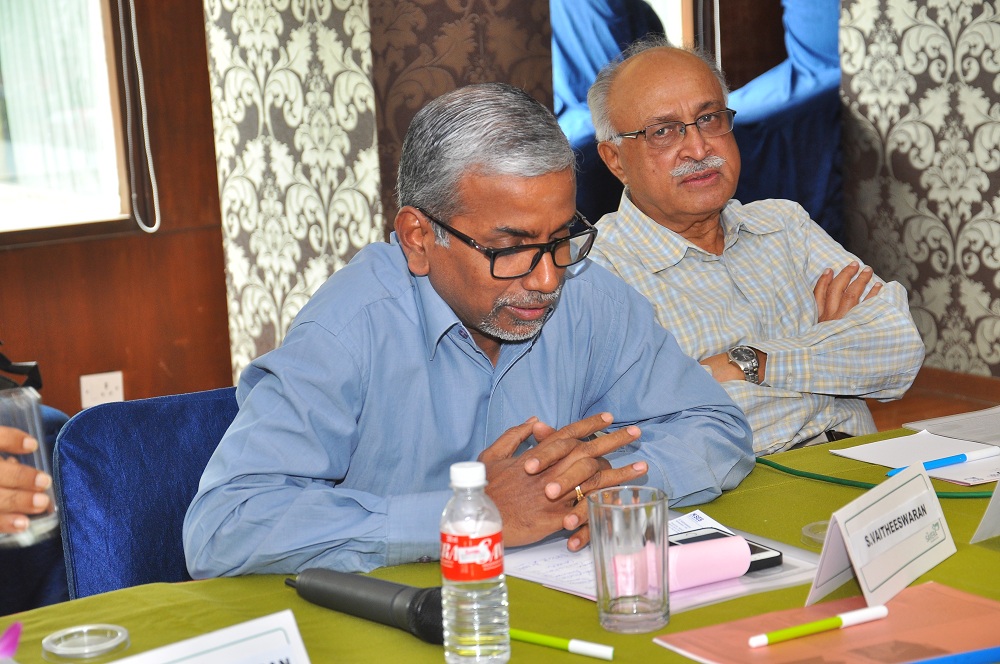 Mr S Vaitheeswaran, MD & CEO, Manipal Global Education Services Pvt Ltd
From a teaching perspectives I see the following possible sequence
Spread awareness through website.
Kick off webinars/conferences/blogs to socialise message.
Introduce free on line basic awareness course( Like a MOOC format).
Introduce certification program as a higher order course to 3 above.
Get campus to run diploma courses- hybrid- campus + on line.
Full time courses.
A progressive approach will ensure we move up the value chain steadily and also cover different segments of the society. Actual curriculum/TOC/ Pedagogy/LMS etc can be drilled down through a small team after we firm up the broad framework.
Approach paper-Indian Association of Governance Enthusiasts
Introduction
While Corporate Governance is a much-talked about and practised matter, there's very little progress on private governance. There are a couple of institutions that have been working on social governance at the global level. International Social Science Council (ISSC- http://www.worldsocialscience.org/) is one such council.
While some good Samaritans who have decided to pay back to the society have set up NGOs and non-profit organizations, there are a couple of them who have set up committees to selflessly support the Govt in several initiatives. B-PAC is one such committee.
IIG- The intent is to support private/social governance, and spread the same to a large extent through another noble initiative, i.e., training, so that the act of governance reaches a large audience. Over a period of time, everyone practises governance voluntarily.
Vision:
Can use from Mr Devaraj's draft.
Values:
1. Good Governance
2. Nil Discrimination
3. Happiness Index?????
Mission:
Same as above;
Objectives of the Association:
1. Increase awareness in society on governance
2. Introduce governance as a subject for people in Govt/public service
3. Socialize governance as a vocation/practice
Scope:
Cater to India initially, over a time frame of next ten year
Strategy and methodology: Steps listed below:
1. Decide on the team-Core team
2. Decide on membership-individuals or institutes or both
3. Decide on eligibility criteria to be members
4. Decide on roles of members-core, co-opted, registered
5. Decide on name (Indian Association of Governance Enthusiasts) and logo
6. Decide on objectives-One focussed objective (any burning issue to be taken up, planned, executed, closed, and then move over to another objective) at a time.
7. Decide on laws and bylaws
8. Registration of the Association-that should include info on objective, scope, details of initiators, trustees, members, donors, disclaimers. Apply for Income Tax exemption on donations.
9. Create website
10. Mode of operation
A) Communication: Start off by connecting with all stakeholders-Govt departments, corporates, public institutions-collect all mail IDs, write to all of them about the single short term objective, mission and vision. Refer to Appendix A.
Put across the idea through blogs, discussion forums, and the mode of tackling the issue.
B) Discussion: Invite responses on the mode of execution. Could also conduct a panel discussion. Receive all comments
C) Decision: Decide on the right mode of execution based on debate and discussion.
D) Execution:
i) Form committees from among members-Communications, Content, Finance, Operations
ii) Assign responsibilities to members of each committee. Each committee's action to be monitored by a member of core committee.
iii) Monitor action through conferences, social events, and webinars. Collate lessons learnt.
11. Publish in the form of e-Newsletter/bulletin. Apply for ISSN number.
12. Take up the same issue for another area (geographical or domain) and replicate
13. With lessons learnt, set up the institute (Indian Institute of Governance). Develop a certificate program to train interested members to get trained in the activity of social governance.
For the certificate program, decide on:
a) Duration (ideal duration is less than six months)
b) Content (develop syllabus and ToCs which revolve around ethical practice, fairness, equity, justice, transparency, accountability to society, attributes leading to Governance, SOP for handling a project by practising governance) for the certificate program of 6 months amounting to 16 credits
c) Develop Program Guide to communicate the objectives of the program, scope of program, duration, delivery method, uses of the program
Type of program Duration
Theory No. of credits assigned for theory, and duration of learning hours No. of credits assigned for Practicals/Project and duration of learning hours Total credits and duration of learning hours
Certificate 6 months 2 months 4 credits, 120 hours of learning that includes webinars, participation in discussion forums, assignments, self-learning 12 credits, 360 hours of learning through project 16 credits and 480 hours of learning
d) Finalize on mode of delivery (face to face or online (MOOCs) or blended. Major component (two-thirds) of the certificate program is project work that'll help candidates/students to spread awareness about social governance in the area of their work. Theory shall be through videos posted on the portal, webinars by core members and alumni of IIG, online discussion forums)
e) Evaluation (online exam and evaluation of project work)and certification
14. Get the certificate program whetted by a team of external experts
15. Regulatory approval: Not required. The Institute is serving a social cause. The Trust/Society is registered.
16. Admissions
a. Enrol students through online communication. Use the same database of employees, with additional communications to students from all colleges (Can ABVP provide contact details?) for interested students to enrol.
b. Fee and P&L???? to be decided.
c. No. of batches per year: Rolling batches
17. Design a Diploma program to include more objectives/issues, if the certificate is successful.

Outcome:
Train professionals in Governance, so that they (certified professionals) in turn, can train more. If everyone practices governance, in the next ten years, India will be a far better place to live in.