Mr N Harihara Subramaniyan
The overall coverage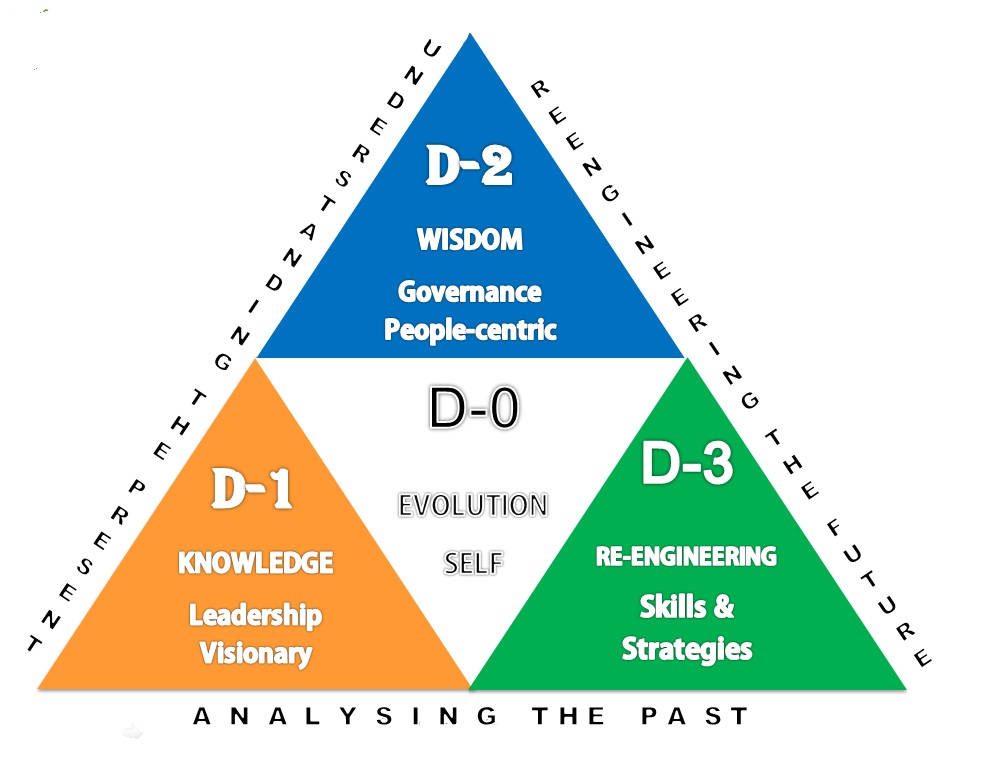 IIG Learning Model - D1
Assimilating the Knowledge & inculcating visionary leadership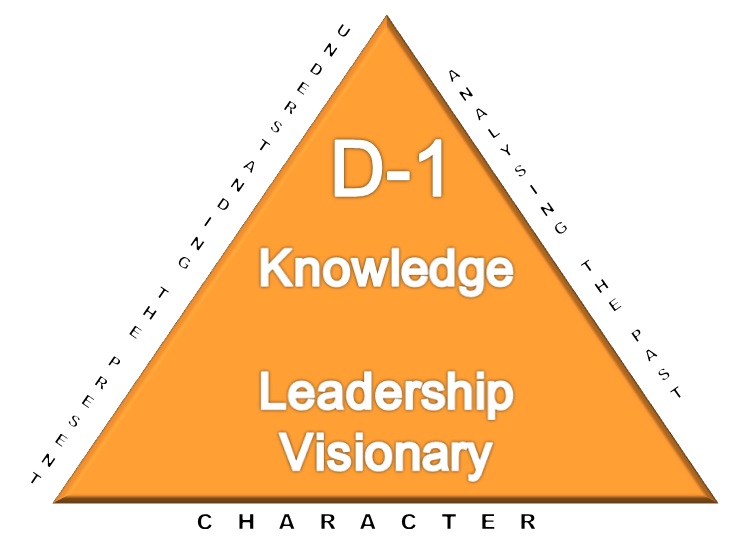 This Segment is to connect the past to the present and analyze the event & people to create knowledge and skill sets, values & ethics to make a leader out of every aspirant. The base of this DOMAIN is sound character.
IIG Learning Model - D2
Deriving Wisdom & creating people centric Governance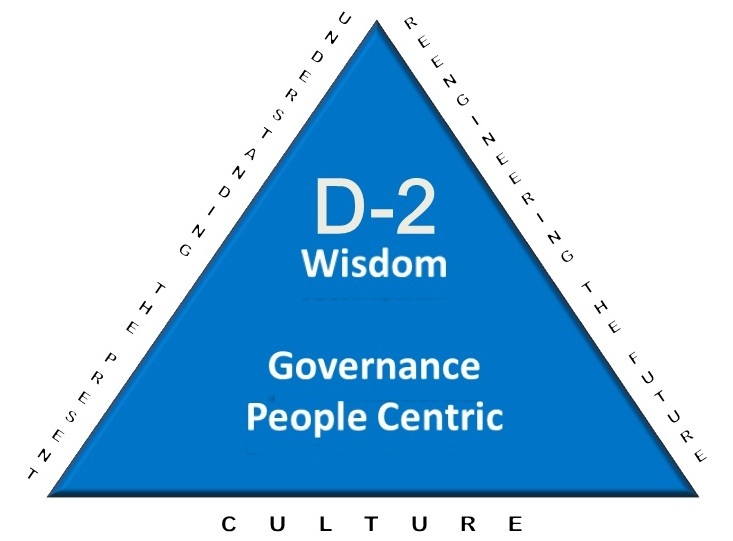 Gaining Wisdom by putting the essence of segment I in practice and seeing the effects, results for one to share, discuss and grow is what all about this segment. This DOMAIN will be built on our culture.
IIG Learning Model - D3
Reengineering the future using Skills & Strategies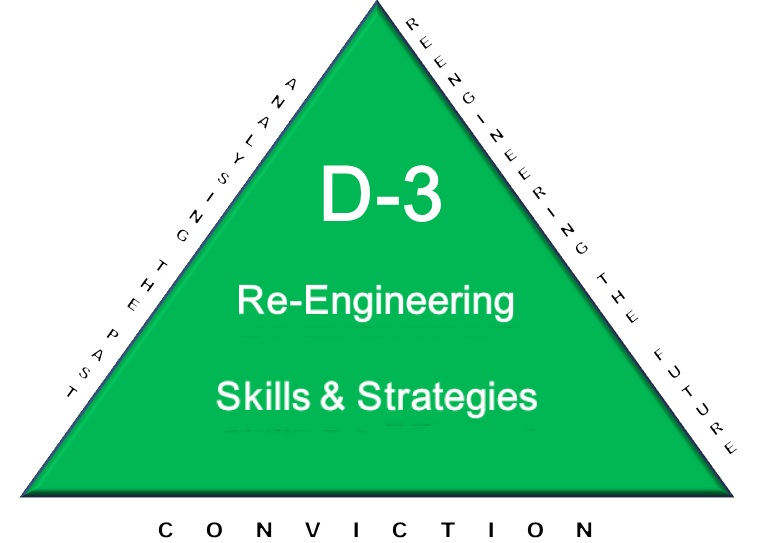 Emerges from the ground realities to draw & drive strategies (with insight / hindsight) for re-engineering the future by extrapolating from the past learnings & events. This DOMAIN will be built on our conviction.
IIG Learning Model - D0
Continuously strengthening & expanding Self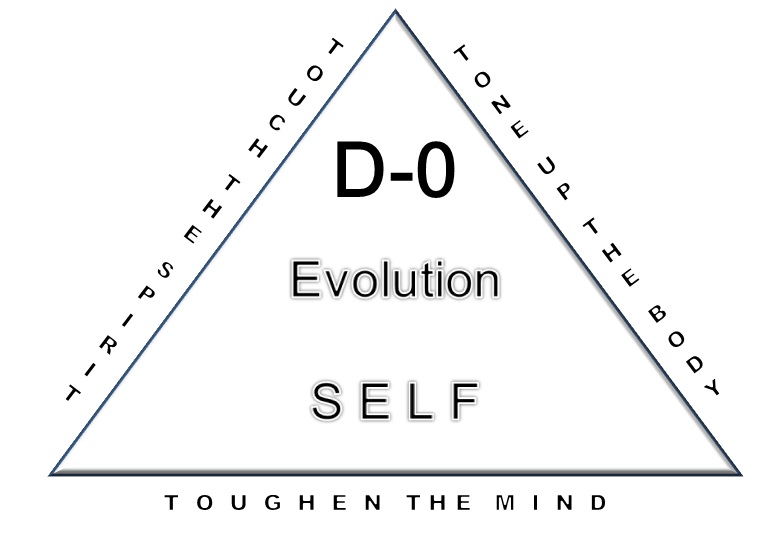 An interlude segment where every candidate evaluates self for leadership qualities and to realise one's weakness and strength to overcome or enhance on an on-going basis.
The Leadership Model
Powerful & Seamless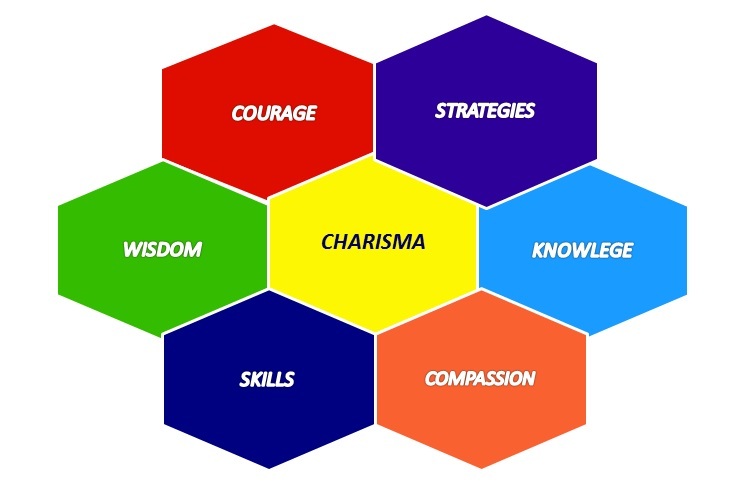 Very similar to the Hindu deity Lord MURUGAN - having six different faces, carrying 12 different tools/skills each related to that face or a modern CNC MACHINE turret carrying multiple tools for multiple operations. A leader need to be competent in all the aspects of leadership need to be a great visionary ALL the time
The Governance Structure
National & Global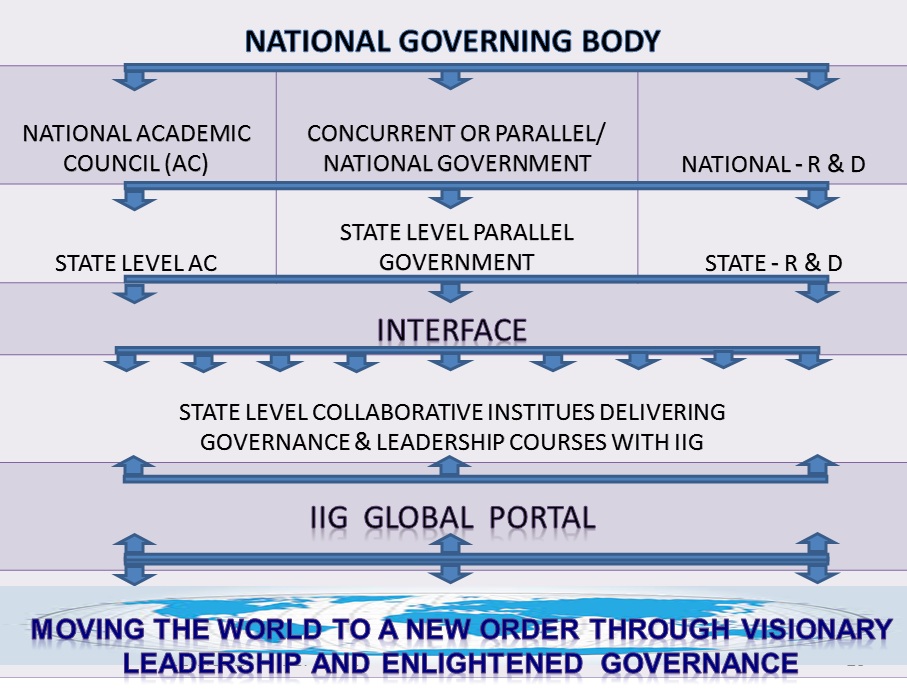 Moving the world to a new order through Visionary Leadership and Enlightened Governance
Pedagogy & Delivery
The proposed model shall provide a clear idea on how the course contents will be designed to enrich the knowledge & wisdom
India's part that will be extensively studied to understand how the country and its culture evolved over 10000 years of known history
Every flagship events and milestone developments which will be analysed to derive the wisdom from the past
The same will be done with respect to the world
Special focus and in-depth Study with respect to all SAARC countries
And countries of strategic importance like CHINA, RUSSIAN FEDERATIONS, USA, GERMANY, JAPAN, FRANCE, UK, SINGAPORE and SAUDI ARABIA where it will be critically studied on the part of their culture, leaders, events, success and failures and how much leadership they created on other and lesser countries
The world of Religion and their influence on human kind and spread will also be a key learning
The prevailing status or things in the country vis-a-vis the world will be analysed and understood.
Courses proposed
P.G. Diploma in Governance and Leadership - 6 semester of 3 months each with 2 semesters of internship and exchange of learning
P.G. Degree in Governance and Leadership - 12 semester of 3 months each with 4 semester of internship & Knowledge Sharing
About 20 - 25 modules of 1 - 3 months duration of online courses to kindle interest & develop the in-depth knowledge about the country, world issues, and leadership skills and practices in the MOOCs (Massive Open Online Courses) line.
Target Audiences
Eligibility

Men & Women of 25 years to 40 years with certain amount of holistic ability and attitude, with some passion to serve this Nation at some point of time in a big way.

The audience :

Those who would like to apply directly (30%)
Those whom corporates will sponsor as designates to take up higher levels of functioning and delivery in their organisations (40%)
Government/ Quasi Government officers as a sabbatical course to enhance their prospects and performance (5%)
IAS, IPS, IFS cadre to come up their abilities and seek keen placements (5%)
Army officers to gain the leadership traits and knowledge (5%)
Political leaders/ MLA's / MP's and their children who are keen to save the country in better ways (5%)
Institutions of learning sponsoring best of their faculty/administers the next gen member to get back and lead a team
SAARC country representatives sponsored by the respective country head (5%)
IIG Role Play Institution, Research & Development, Pedagogy, Parallel Governance - State & Nation

IIG will be the knowledge hub for Leadership & Governance run by an academic council of best of men and women in the country - there will be a state level and a National level committee and a National governing body in the execution of the same.
IIG with its global R&D and curriculum will be focussing and working continuously in shaping the Methodologies, experiential learning, interaction with the thought and action leaders, resource books, reference materials, visits, etc. guiding and detailing the pedagogy with a set of inputs and professors working under them. They will also service IIG as resource persons and visiting professors or even as a full time faculty.
IIG, thus will not be spending its energy in raising huge Structures, but collaborate with existing Institutes and deemed Universities of eminence to deliver the carefully designed courses. IIG will have State level headquarters and a National level headquarter which will also double up as the Nodal Resource centres and centres of parallel governance and guiding the States and Nations on key issues and developments.
IIG PORTAL as a knowledge hub & interacting platform on Governance leadership

IIG portal is going to become an ultimate knowledge hub for Good Governance and Visionary Leadership in the world.
Google any of these words and that will lead you to IIG on top
It will be an interactive platform bringing all the leaders, students, Alumni, professors and every contributor together with videos and lectures streaming out for every topic or key word chosen.
The entire work of every Leader, his thought process, group findings, and presentations will be available in the IIG PORTAL to which every alumni will have a life time interaction and learning.
Funding

At some point sooner or later, we will be inviting the good champions of the nation to work with us.
We have a plethora of them today - my own idols, Sri Ratan Tata, Sri Narayana Murthi (Infosys), Sri Azim Premji (Wipro) and the young Mahendra's and Mundal's to site a few.
We are sure help and support will come even from the Government at some point of time.
Global Responsibility

When going global, we will have a greater deliberations and interaction with UN - as UN in its many internal & published documents talk about the dearth of VISIONARY LEADERSHIP in state and countries as a stumbling block in the implementation of its great plans for Human progress.
The IIG World Council will have some of the UN leaders as its members and advisors.
IIG will aim to change the way the world operates soon.